CANADA

Woo hoo - the travels begin!

Dane had arrived in Canada a few months before me to do the salmon season at Rivers Inlet Resort in Northern British Columbia, near Alaska.

So, at the end of the salmon season I joined him in Vancouver. With no plans and not much money we decided that the best way to see this country was to buy a van that we could sleep in, eat in and explore in...

Introducing: THE BEAST

Purchased from travelling Irishmen, this sleep-in-able Dodge(y?!) Van was kitted out with a full camping set up including tables, chairs, stove, lights, pots, pans, cutlery, crockery, tarp, poles, and TWO MOUNTAIN BIKES which perch ridiculously on the roof racks.
Cue: The Price is Right Music - "It's a neeeeeewww Caaaaaaarrrrrr - Come on Downnnnnn!".

VANCOUVER, CANADA
Before hitting the road we spent a few weeks fixing up the Beast and exploring Vancouver...
We braved the 'Grouse Grind' - hiking up nearly 3km of vertical rise in the mountains of North Vancouver. This one taken from about halfway up.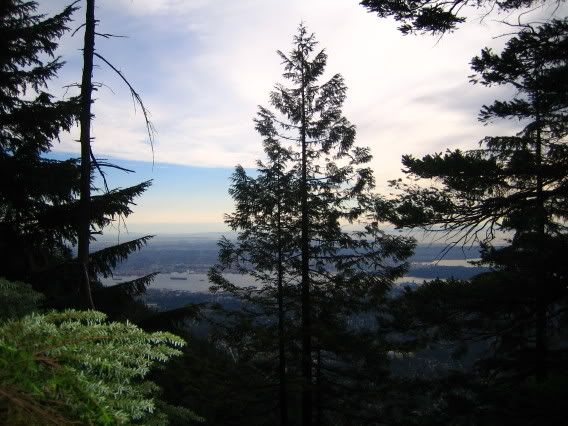 There is a wildlife reserve at the top which is home to two Grizzlies - very active once they saw a camera!



Keep munching...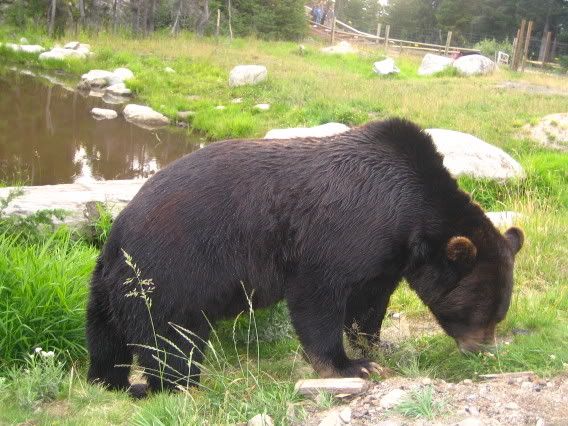 GRANVILLE ISLAND
In downtown Vancouver is Granville Island. Situated on the south shore of False Creek it is connected to the city by a causeway. A sprawling market of sorts, it's home to amazing dining spots, art galleries and a fabulous public market that offers the freshest fruit and veg, desserts, fish and cheeses.
Market flowers...

Street Theatre performances are common at Granville Island. This guy, Lord Baron from England was a nutter. Quick off the mark and never short of a come-back. Of course, we were both picked to participate in his show - yes, that's Dane with real fire, real straight jackets, and real chains.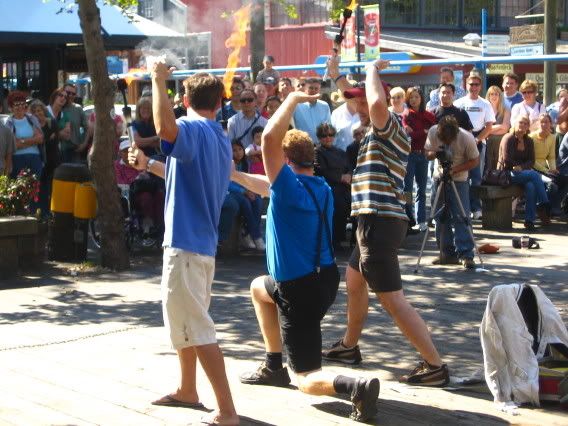 I also became involved somehow...
STANLEY PARK
We headed down to Stanley Park to christen our new mountain bikes with a 10km ride around the sea wall.
This is downtown Vancouver taken from the entrance to Stanley Park.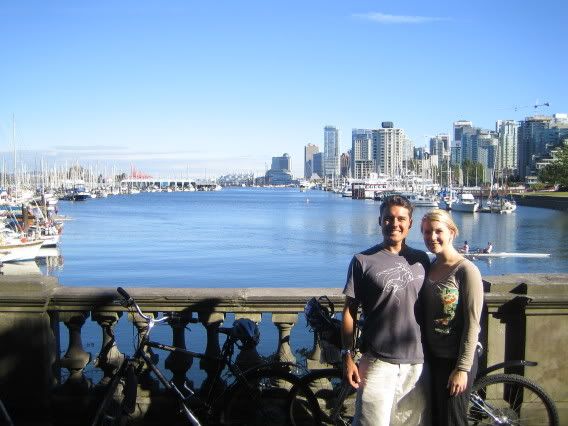 A racoon hides in Stanley Park...
Boulders on the seawall.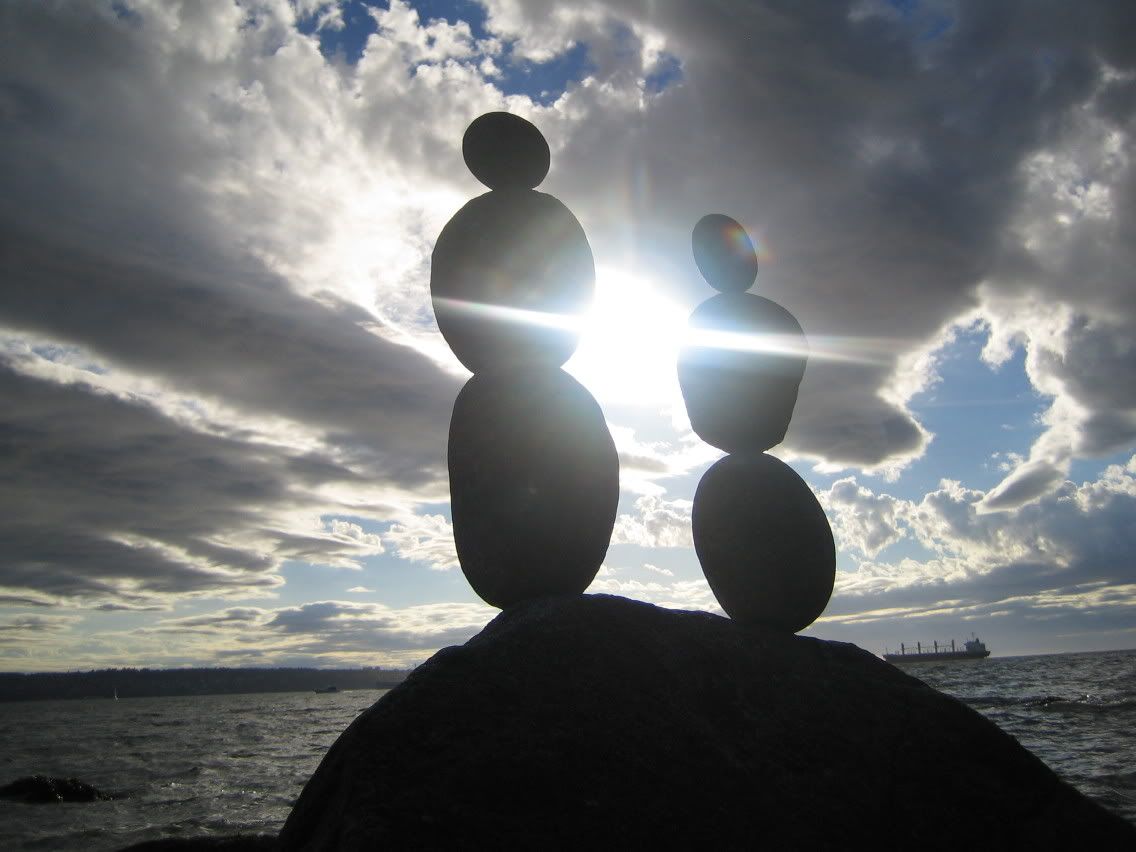 AN EVENING AT ENGLISH BAY
One of my favourite spots in Vancouver. Continuing down the sea wall from Stanley Park, you can sit right on the coast and enjoy seafood and beers in the afternoon sun. Here we are with some of D's crew from River's Inlet - Dane, Jack, Hetta, and me .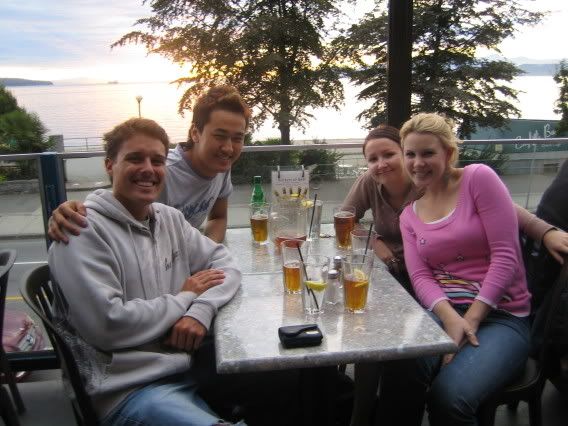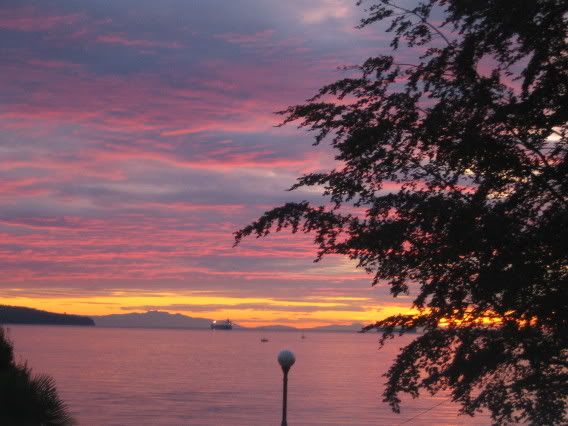 To have a look at Dane's adventures at Rivers Inlet Resort click here.